A Roofing Result!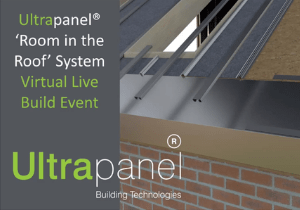 Ultrapanel has announced a fantastic response to the virtual live build launch event of its new 'room in the roof' solution which was held on 30th March 2021. Ultrapanel is a revolutionary hybrid roofing system created to meet the demands of housebuilders requiring performance and programme assured roofing solution.
Ultrapanel is a newly patented technology that delivers verified fire, weathertight, thermal and structural performance. Ultrapanel systems allow you to build better homes at a faster pace thanks to modern methods of construction.
All Ultrapanel systems are fully BBA Certified and NHBC Accepts for its offsite manufacturing.
Ultrapanel is a highly adaptable offsite manufactured system that increases return on investment by rapidly optimising saleable residential space by up to 60% and reducing build times onsite. The revolutionary system has been tried and tested by Barratt Group, one of the UK's largest volume housebuilders.
Oliver Novakovic, Technical and Innovation Director of Barratt Group said: "We started this journey with Ultrapanel nearly two years ago. They came to us with a very unique roofing system, different both in its structure and its approach to build. And as always Barratts Group was very interested in new innovation, especially ones that look to change the key dynamics of how we approach construction.
Part of our NPI process is that we assess every step of the technology in its application to ensure it meets the demands of construction sites, our customers most importantly, and ourselves at Barratts."
During the live build event, viewers were able to see first-hand the 'room in the roof' solution being built step-by-step, demonstrating its ease and speed.
Ultrapanel Building Technologies worked with Cogent Consulting during the research, design and trial stages in the development of the 'room in the roof' system. Cogent Consulting is a leading multi-disciplinary consultancy specialising in the field of offsite construction and offering independent advice.
Darren Richards, Managing Director of Cogent Consulting, said: "The results that you're seeing today during the live demo and live-build often look simple but there's a lot of hard work gone into making this a really efficient and simple solution. So, I hope everyone watching today really appreciates that it's not a five-minute task to achieve this level of efficiency – it's taken a lot of hard work and a lot of grind."
During the live build event, the Ultrapanel team interacted with the NHBC (National House Building Council), the BBA (British Board of Agrément) and Barratt Group, which allowed viewers to gain a full insight into the 'room in the roof' product, along with detail about its manufacturing, accreditations, installation, skills required and much more.
Speaking more about the launch Robert Hudson, Programme Director at Ultrapanel, said: "The live event was all about showcasing our newly accredited Ultrapanel system to key players in the UK housing market. We had initially planned to hold a physical launch event and have people view the build-up in person at our factory, but due to COVID restrictions this was not possible. We wanted to get the good news about our innovative system out there as soon as possible so we used an online format where viewers could watch the roof being built while watching a presentation with more of the technical detail which worked incredibly well. We had lots of questions and interaction from technical and construction directors across the market and created a real buzz and interest in Ultrapanel."
The innovative patented 'room in the roof' system has been developed by Ultrapanel Technologies, part of the Ultraframe Group, renowned for revolutionising the conservatory roof market. Bringing its vast experience in world-class manufacturing combined with advanced mass customisation techniques, Ultraframe has the proven capability and capacity to deliver custom-made 'room in the roof' systems at scale and pace, with a lead time of just two weeks.
To find out more or access the link to the live build up video, contact hello@ultrapanel.co.uk.