MANAGING DIRECTOR
---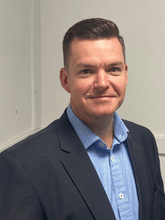 John Hough
John has over 19 years' experience within the Newbuild and Construction sector and believes customer centricity is key. Johns focus for the business is on delivering not just excellent systems but a service level to match. He believes M.M.C and offsite manufacturing is key in assisting the government to achieving their 300k p/a housing objective.
Andrew Thomson

Design & Development Director

The Research and Development Director, Andrew has led the R&D department for over 17 years, and can still be found in the office developing new designs with the support of the wider team. Andrew also enjoys cycling, and spending time with the family.
Tansy Sabben

Chartered Structural Engineer

Since achieving Chartered Status in 2003, Tansy joined us in 2017. Tansy has been instrumental in securing accreditation for our bespoke composite panel system and is thoroughly enjoying leading the structural design process of such an innovative product.
Lee Walsh

Senior Design Engineer

Lee has worked with the company for 6 years, and enjoys the daily challenges of his role, overseeing and developing new products.
Luke Johnson

Design Engineer

Luke has worked in the construction industry for over a decade and joined the Ultrapanel team in 2016 after completing his Masters degree at Coventry University. He combines his love of modular design with the challenges of the customisable nature of the modern construction industry.
Darren Murphy

Design Engineer

Darren joined the company in 2014, he has a passion for designing and developing new products from concept to final manufacture. He is very 'hands-on' and determined, nothing will stop him from getting the job done, right and first time.
Robert Hudson

Programme Director

Robert performs a critical role within the company, providing technical and commercial support as Programme Director. He ensures all Ultrapanel accounts get the attention, service and care they deserve. Robert is a true people person and loves to get to know his clients well, particularly enjoying the chance to introduce new innovations to them.

Mark Hanson

Interim Sales Manager

Mark is one of our most experienced member of the technical sales team, having been with the company for nearly 25 years.  He mostly enjoys the strategic aspects, helping his team identify where we can best support our clients, building partnerships and growing our businesses together.
Simon Tennant

Contracts Manager

Having worked in the offsite manufacture of roofs with the company for 27 years, Simon continues to demonstrate a high commitment to supporting projects & enabling the client to experience the best from our products.
Alistair Stephenson

Installation Engineer

Alistair has worked with the company for some 5 years. His command of all associated procedures with roof installation underpins his importance to the site team.
Tony Daly

Installation Engineer

Tony has been with the company for nearly 21 years. A joiner by trade Tony's experience, knowledge & positive attitude cement him as a lead member of the site team.
Ben Chatburn

Installation Engineer

Ben joined Ultrapanel in 2020 and was quickly identified as a keen & very capable addition to the site team.  His ability to swiftly identify & overcome challenges is a valued asset.
Chloe McGrath

Brand Manager

Chloe has worked for the company for 8 years, she is passionate about supporting and building long-lasting relationships with clients. Chloe oversees all marketing activities, co-ordinates marketing campaigns which can include anything from social media advertising to direct mail, e-shots.