Ultrapanel Appoints New Managing Director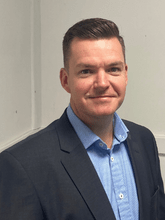 Ultrapanel Building Technologies, designer and manufacturer of the award-winning Ultrapanel 'room in the roof' system, has announced the appointment of John Hough as Managing Director. John brings over 19 years' experience within the new build and construction sector to the role.
Commenting on his appointment, John said: "My focus for Ultrapanel Building Technologies is delivering not just excellent and efficient systems, but also a service level to match. I strongly believe that customer centricity is key for any successful business, and I look forward to putting this into practice with our clients. Modern Methods of Constructions and offsite manufacturing are key in assisting the government to achieving its 300k p/a housing objective, and I believe that the Ultrapanel 'room in the roof' system will play a key role in achieving these targets. There are some fantastic opportunities ahead of us and I am delighted to be a part of the Ultrapanel team."
Manufactured off-site and delivered as a flat packed 'room in the roof' kit, Ultrapanel's innovative and accredited modern method of construction is the most efficient end to end way to build. Materials, manufacturing and labour are optimised to deliver structural and thermal performance in a much lighter, simpler and faster building system with a high quality finish every time. Arriving palletised, Ultrapanel is rapidly assembled and requires no heavy lifting equipment. Thanks to short call offs and a responsive supply chain the Ultrapanel 'room in the roof' delivers significant programme gains on busy sites.
Launched in early 2021 to an esteemed audience including some of the UK's premier housebuilders and industry bodies such as the BBA, the system is a totally new precision engineered NHBC Accepts and BBA Certified system. Since its launch in January, the system has won Best Brand New Product at the Housebuilder Product Awards, was Highly Commended in the Product Innovation category at the Offsite Awards, and is shortlisted at the upcoming CN Specialist Awards.
Commenting about John's appointment, Ultrapanel Research and Development Director, Andrew Thomson, said: "John's industry skills, experience and knowledge are perfect, he is well versed in bringing new innovations to market and the needs of housebuilders. Since launching Ultrapanel we have seen strong engagement and growth, and we are committed to delivering excellent systems and service."