Material shortages – is MMC the answer?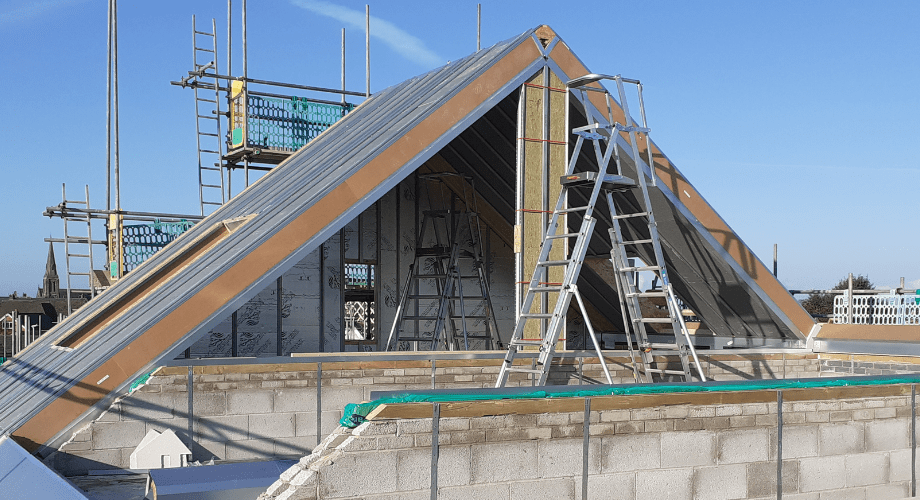 As the UK strives to recover and return to the 'new normal'– the pressure of operating a safe construction site combined with tough schedules, supply chain issues and complex specification decisions are all taking a toll on housebuilders.
The Brexit-driven shortage of workers, disorder in construction supply chains, and materials shortages are also creating a need for rapid reassessment of supply chains. The construction industry has been at the forefront of the economic recovery with activity levels at a seven-year high. Soaring demand has strained the availability of a number of key materials, with some experiencing double-digit inflation.
With a reliable and responsive supply chain, Ultrapanel's 40-year offsite manufacturing heritage makes it a supply chain partner that is dependable, agile, and able to rapidly respond to the changing needs of busy sites. Every Ultrapanel 'room in the roof' is produced in a high quality, high capacity factory manufacturing 25,000 roofs per year. With an On Time in Full (OTIF) of 98% and twice-yearly BBA factory audits, Ultrapanel is the roofing solution to depend on.
The highly efficient 'room in the roof' system was launched by Ultrapanel Building Technologies in January 2021. The system provides world-class offsite manufacturing techniques and therefore, invaluable benefits for housebuilders who are not only looking to increase efficiency and revenue, but also to overcome supply chain, performance and safety issue concerns.
The Ultrapanel system is delivered to site as a complete 'room in the roof' kit of parts including all components and fixings. This therefore eliminates onsite waste and associated disposal costs.
It is not only construction methods that are going through labour shortage and supply chain challenges. Productivity or the lack of, has been an issue for the construction industry for decades. The UK has the skills and technology to overcome the pitfalls associated with traditional labour-intensive approaches, however some sectors have been slow on the uptake. The Ultrapanel 'room in the roof' is far less labour intensive than traditional roofs in terms of its manufacturing and building processes. Each roof is produced in the Ultrapanel high capacity, high quality factory, where components are manufactured simultaneously for the ultimate in manufacturing efficiency. This low labour intensity approach continues when a roof arrives on site in flatpacked form on just 3-4 pallets, meaning that Ultrapanel roofs are easy to store, and the palletised nature of the delivery allows for efficient transportation around a site. Finally, the build itself is also ultra-efficient in terms of the amount of labour needed. In fact, a team of three is able to get a roof to fully watertight within just one day.
Commenting, Andrew Thomson, Ultrapanel's Design and Development Director, said: "With a collective 350 years of experience and a 30-plus strong design team, the supply chain department at Ultrapanel has unrivalled expertise in sourcing the correct component to get hundreds of roofs out of our high-precision manufacturing facility each day. The Ultrapanel system is the only 'room in the roof' solution with BBA certification and NHBC Accepts. This provides assurance and confidence to developers that Ultrapanel components will consistently achieve the required structural, thermal, condensation and fire performance standards, in line with NHBC warranty and insurance policies."
Ultrapanel believes that MCC needs to be seriously considered in all development projects and should stop being a "buzz" word. The concept of design and manufacture offsite and assemble on site as opposed to construct on site will support efficiencies, labour shortages, and speed of build, all of which can support the government's build target of 300K houses per year.
To find out more about Ultrapanel email hello@ultrapanel.co.uk.