CASE STUDY
Bowland Meadows, Preston
After Barratt Developments witnessed the first site-based trial build of the Ultrapanel Building Technologies 'room in the roof' solution, they were keen to get involved and have been closely involved as the system has been refined for launch.
In 2020 Barratt Developments carried out its first Ultrapanel build on the Bowland Meadows site in Longridge.
Barratt Developments is the UK's number one volume housebuilder and like Ultrapanel Building Technologies, is an innovation led company, always keen to utilise the latest technology in its homes to ensure the optimum building process and customer satisfaction. In fact, Barratt Developments has been the UK's most recommended housebuilder for 12 years in a row, earning the company a 5-Star rating with the Home Builders Federation.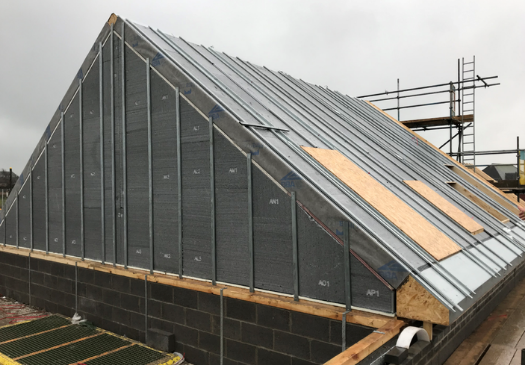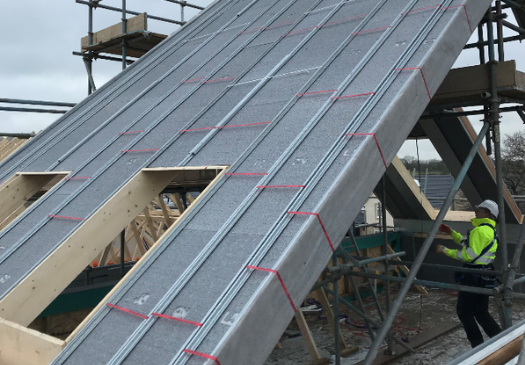 DESIGN & CONSTRUCTION
Barratts first saw the Ultrapanel system being installed on a trial build when the system was in its infancy and worked closely with Ultrapanel Building technologies as the system was developed.
The first Barratts Ultrapanel build took place in 2020 on two units on the Bowland Meadows development and was completed to plan, despite windy conditions from Storm Dennis, that may have delayed the roof build if using other methods. The roof was factory prepped to receive a dormer and two roof windows.
As the UK's number one housebuilder, Barratt Developments continuously explores new and emerging technologies to ensure that the build process is as smooth as possible. The technology of the Ultrapanel system and the speed and ease it brings to a roof installation were the key factors which attracted Barratts to become involved from the early days of the system's development.
CHALLENGES & RESOLUTIONS
The Ultrapanel system does not require large cranes to lift the roof and so the disruption to site which occurs due to the need for cranes with other systems is avoided. The Ultrapanel system makes use of smaller plant such as telehandlers which are already on site. Not only does the Ultrapanel system eradicate the risk of site disruption and delays, but it also delivers verified fire, weathertight, thermal and structural performance every time.
NHBC Accepts and BBA Certified, the precision engineered Ultrapanel system provides programme and supply chain certainty and is delivered to site as a complete 'room in the roof' kit of parts including all components and fixings at a pre-agreed price.
Don't just take our word for it...

We started this journey with Ultrapanel almost two years ago. They came to us with a very unique roofing system, different in both its structure and its approach to build. As always, as Barratt, we are very interested in new innovations – especially ones that change the key dynamics of how we approach construction. We have done a very detailed review as you can imagine over the last two years of the Ultrapanel system, trialing it in their factory and on site. Part of our NPI process is that we assess every step of the technology in its application to ensure it meets the demands of construction sites, our customers most importantly, and ourselves at Barratts.

Oliver Novakovic, Technical & Innovation Director - Barratt Developments